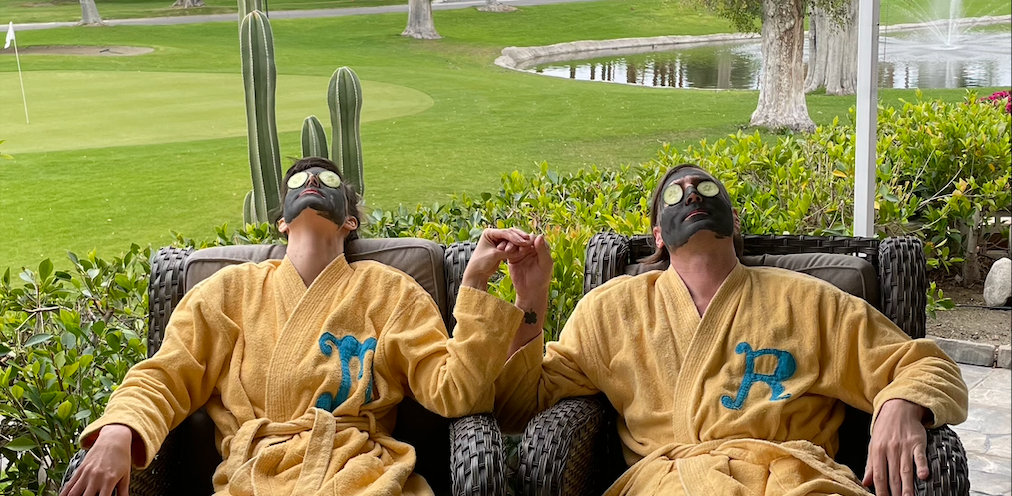 The Best Clay Face Mask To Detox and Hydrate Skin After A Day of Travel!
Meet McCauly and Ryan, couple, dog parents and co-founders of ALLELES a design studio and manufacturer of prosthetic covers. 
Running a company doesn't allow the dynamic duo much time to vacation or relax. So, during a short but sweet 4 day visit to Palm Springs the two sat back for a moment to unwind and enjoy our new 'Detoxifying Charcoal' Clay Face Mask during and at home away from home spa day!
Made with certified all natural, organic, vegan and cruelty free ingredients our 'Detoxifying Charcoal' Clay Face Mask is the perfect way to detox, nourish and hydrate skin after a day of travel!
They're also small enough to travel with and made with glass so they're easy to reuse or recycle. So sit back, relax and make any day at home or away feel like the most relaxing and rejuvenating spa day. 
Can we also just take a moment to admire and acknowledge how CUTE and COOL these two are in their matching robes that we desperately want (hello matching Birch Babe robes!!).
So, what were their thoughts on the Clay Face Mask and taking a moment to recharge?
In McCauly's words "We don't get to relax too often, so when we did get to have a weekend away, we wanted to create a little Spa experience and sink into vacation mode! We couldn't have imagined a better way to pamper ourselves than with our new Birch Babe Detoxifying Charcoal Clay Mask!"
Our 'Charcoal' Clay Face Mask was made to removes toxins, tighten pores, fight breakouts and acne. Some of the super charged ingredients include:
Bentonite Clay helps remove toxins from your skin.
Activated Charcoal cleanses pores and soothes acne.
Beet Root stimulates blood flow, smooths wrinkles and replenishes dead skin cells.
Seaweed Powder hydrates and moisturizes skin.
Salicylic Acid fights acne, removes dead akin and soothes sunburns
Using our Clay Face Mask is super easy and a little goes a long way!
McCauly shared "We added a bit of water and some of the clay mask dust to a bowl, mixed it up and voilà, a perfect silky texture that was easy to apply felt light and soothing instantly. Once I washed my face, my skin felt so smooth, cleansed and like I had just spent hours at the spa. I will never not take my Birch Babe Clay mask with me on vacation ever again."  
Overall, skin will feel detoxed, cleansed and revitalized after using this Clay Mask! 
Not sure about 'Activated Charcoal'? We also carry a 'Nourishing Rose' Clay Mask that is perfect for normal to sensitive skin. Learn more and shop em' both here. 
Follow McCauly and Ryan's amazing company ALLELES below!