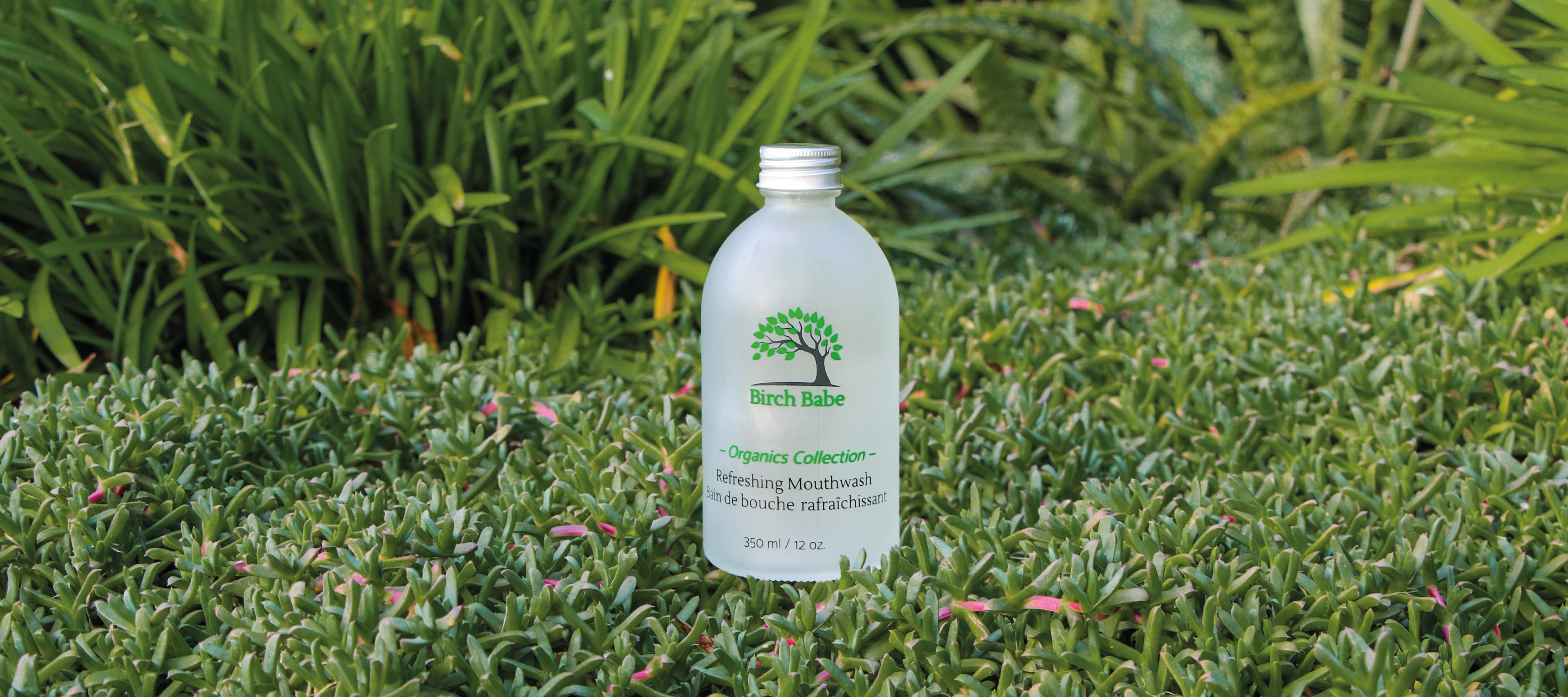 The benefits of using an all natural, alcohol free mouthwash!
Mouthwash is a refreshing addition to any oral hygiene routine!
However, the issues with some commercial and standard mouthwashes are that they can contain harmful toxins, alcohol, artificial flavours, dyes and parabens. These elements can be toxic to the health of our bodies and the environment. 
Just think, the label says don't swallow for a reason! Even if we don't "swallow" the standard mouthwash there's still some liquid that may enter our bloodstream and digestive tract. In addition, when we spit, this is going down the drain and into our environment. 
We at Birch Babe believe that our overall health comes from what we put on and into our bodies. That's why we're proud to offer our skin, body, beauty and dental products that are all natural, plastic free and made with clean and organic ingredients. 
Our Refreshing Mouthwash is toxin free, alcohol free and safe enough for kids or expecting moms. 
Below are a list of some of our minimal ingredients in our Refreshing Mouthwash and the benefits of each. 
Organic Tea Tree Leaf Oil: Is antibacterial and helps with plaque buildup preventing tooth decay.
Clove Flower Oil: Cloves have analgesic, antibacterial, and anti-inflammatory properties and has been traditionally used to help treat inflamed gums. It can also help reduce infection and swelling in the gums. 
Organic Peppermint Oil: Added organic Peppermint for flavour and fresh breath. 
Organic Spearmint Leaf Oil: Added organic Spearmint for flavour and fresh breath. 
Distilled Water: For substance. 
Stevia Powder: Added as a light all natural, sugar free dash of sweetness.
Our Refreshing Mouthwash is also:
 99% Organic

 Vegan & Cruelty Free

Packaged Plastic Free 

Made in Canada (with love!)
We hope you love our Refreshing Mouthwash as much as some of our community does! A few reviews below. Read more Birch Babe reviews here! :)
⭐⭐⭐⭐⭐ "Tastes so much better than the drug store bought stuff I've been used to :)"- Katya R.
⭐⭐⭐⭐⭐ "Fantastic ingredients! Finally a mouthwash I feel good about giving to my young daughter (and the rest of our family!)." - Karen N.
Looking to completely upgrade your all natural dental routine! We also have Refreshing Tooth Powder in three flavours: Spearmint, Mango and Birthday Cake as well as a Plastic Free Bamboo Toothbrush! You can shop on their own or purchase as a bundle and save with our  Freshen Up - 3 Step Dental Bundle and save!
Wr hope this information has been helpful for you! Together our conscientious and sustainable shopping decisions make a big difference for the health of our bodies and our planet. 
If you have any questions don't hesitate to reach out! info@birchbabe.com
xo,
The Birch Babes