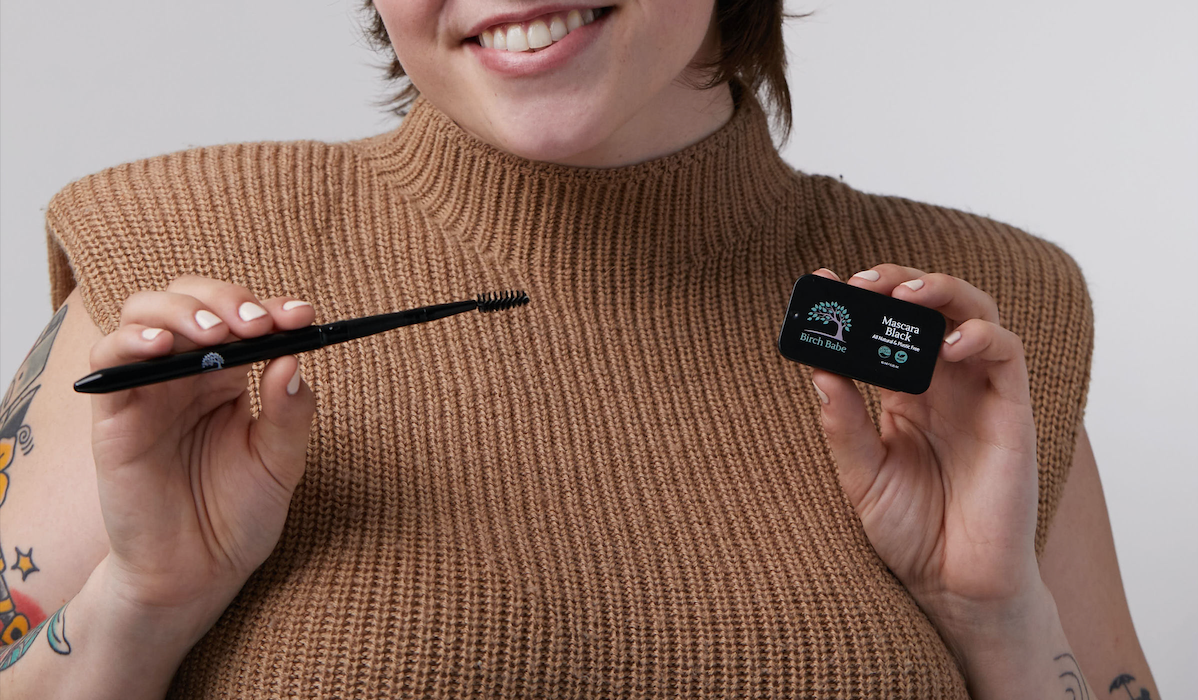 How to Wear All Natural, Plastic Free, Vegan Mascara Cake
Our All Natural Mascara is the cutest addition to any low waste, clean beauty routine. It's reusable, plastic free, sustainably made with ethically sourced ingredients, vegan and cruelty free and of course toxin free!
Listen, we know this isn't new, and is a total throwback to the 1950's. We believe great things always come back in style and the way our grandmas and moms lived actually sometimes made way more sense sustainably! 
So we're here to bring it back! Starting with our All Natural, Plastic Free Mascara and Reusable Travel Friendly Wand. 
Our mascara is one of our top sellers however using cake mascara can be a learning curve. So this article is all about sharing the steps and fun resources to know how to wear cake mascara like it never went out of style!
First, let's start with the steps:
Step 1: Open your mascara cake tin.

Step 2: Open your reusable travel friendly wand. 

Step 3: Wet wand under tap, in a bowl/cup of water or, spray mascara cake with water. 

Step 4: Roll wand over mascara cake until covered.

Step 5: Make sure to wet the wand and re-roll in the mascara cake to create a creamy paste.

Step 6: Wipe off excess mascara from wand on the tin edge.

Step 7: Apply mascara to lashes with wand.

Step 8: Repeat depending on desired look.

Step 9: Let lashes dry for 1-2 minutes. 

Step 10: Wipe the edges of the mascara tin and close the lid. 

Step 11: Wash wand after each use with soap & water to keep clean between uses.

Step 12: Store mascara wand in a cup to dry.

Step 13: Admire healthy, toxin free lashes.

Step 14: Enjoy the day!
Looking for more? Below are some fun video tutorials on how to wear our all natural mascara: 
Instagram: 
YouTube: 
(15sec.) Olivia wears our All Natural Mascara in Black in this YouTube Video here.
One of the questions we get asked a lot is "is the All Natural Mascara waterproof?". Answer below:
Many waterproof and long lasting makeup products require certain chemicals to provide the long lasting wear. These chemicals can be toxic and have been linked to PFA's. See a recent article by Environmental Defence called "New study finds PFAS chemicals hiding in some "long-lasting" and "waterproof" makeup". 
Because at Birch Babe we use only certified all natural and organic ingredients our mascara will last the day however not in water.
Our All Natural Mascara Cake and Travel Friendly Reusable Wand can be purchased as a kit or on their own. 
If you have a wand already: You can shop for just the mascara cake.

If you're refilling your mascara cake: Keep your existing wand and purchase the cake on its own! 
We hope this article was helpful. Let us know and share below!
If you have any other questions, reach out to us! info@birchbabe.com 
Be sure to tag us in your All Natural Mascara videos and pics on social media @birchbabe #LessFussMoreFun  
Thank you!
xo
The Birch Babes