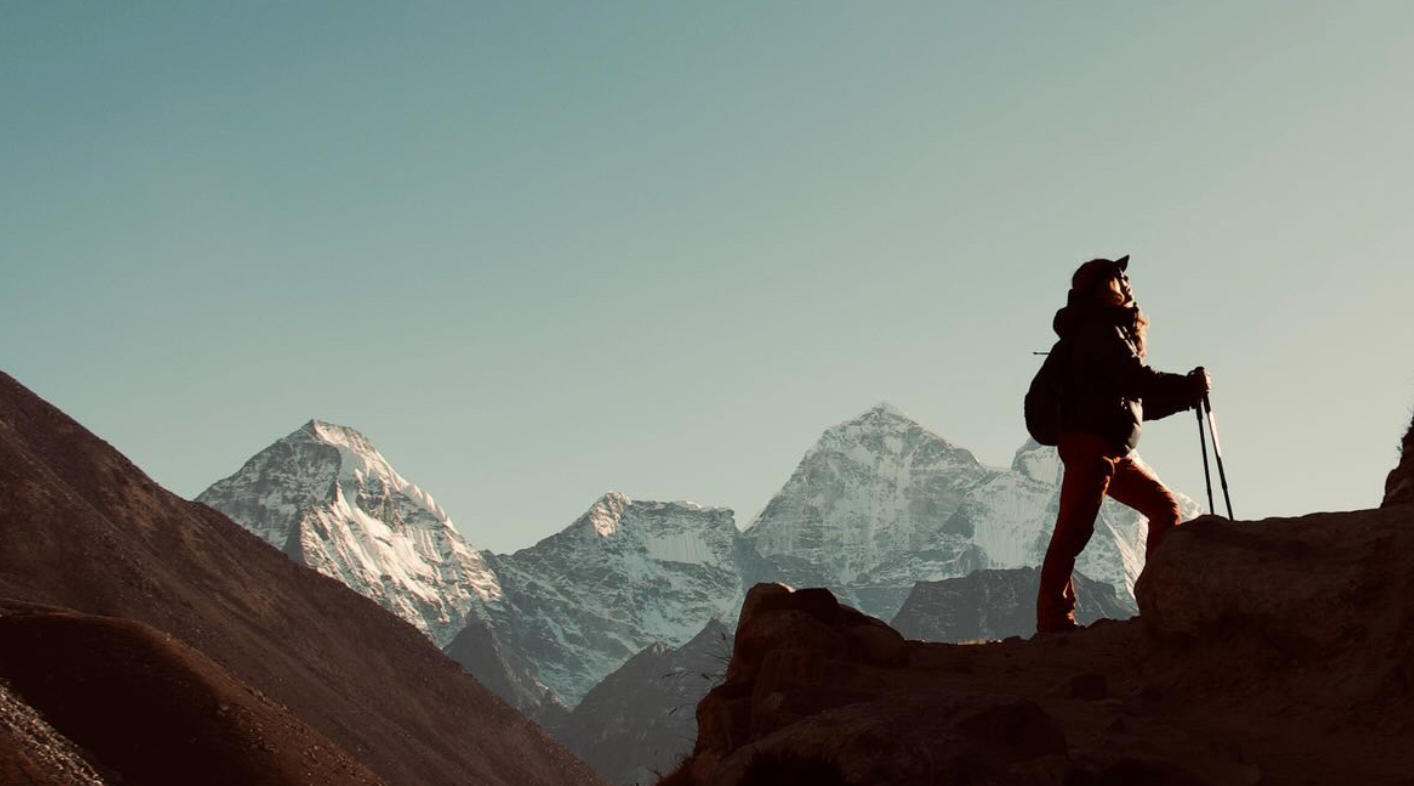 One woman's healing journey to Everest Base Camp and what it took to get there!
Meet Hannah (aka @littleredsailor) a passionate naturalist, kayak guide and Marine Rescue Specialist (to name a few) who decided to take on the ultimate challenge of climbing to Mount Everest Base Camp in Nepal.
With only 2 weeks to plan Hannah started building her Everest Base Camp gear list! She secured sponsorships from Fjällräven, Arc'teryx and Birch Babe to build the ultimate travel essentials for her trek!
With our skincare in her backpack, she set off on her journey, facing extreme weather conditions and high altitudes. Despite the harsh environments, her skin remained protected and nourished. 
Read our exclusive interview with Hannah below to learn about her journey, how she overcame addiction and pursued her dreams and passion for nature. 
1.Firstly, we'd love to know a bit about you! What do you do? 
I have many passions and interests. This summer I dove headfirst into my love for the Ocean and pursued my dreams of working with whales as a naturalist. I also learned to drive boats, enjoy surfing and am a kayak guide and instructor. In my spare time I volunteer as a Marine Rescue Specialist.  In the winter I live on the mountain and train for Nordic skiing.  I am learning to become an asset on the mountain and hope to become a member of the Ski Patrol next season.
2.What are your passions?
My life is first and foremost about wellness.  As someone who has experienced the shackles of addiction, I have centred my life around well-being and creating a rock-solid foundation. That means physically, spiritually and mentally. All the good in my life is rooted in wellness and my passion is in sharing that with others.  Whether that's through working with youth, sharing experiences with whales and wildlife or working with the community.
On the flip side, I have been lucky to have found a way to make my passions into my career. My love for nature and wildlife have overflowed into all areas of my life. I am also a very creative person and love to express myself through my art, writing and music. 
3.What inspired you to climb Mount Everest? 
This is a question I'm still asking myself. I think the answers are still being revealed. There were a lot of arrows pointing me in that direction this year and I would be silly to deny that mystical thing pulling me in. Climbing big mountains was always a dream of mine and I think for many people. I feel this was always in my cards. Like all I had to do was step into that reality. I felt little fear in the pursuit but rather a deep knowing and trust that it was meant to be. This is just the beginning of a lifelong career in the mountains.
4.How did you plan your trip? Did you spend a lot of time? Or, just decide and then go do it!?
In some ways I had been preparing for this my whole life. I spend 5 days a week at the gym and have done other rites of passage type journeys including the Camino de Santiago and recently a Tribal Journey. I have also had a lot of unique experiences that have given me gifts like grit, humility and resiliency. The traits needed to pursue a goal like this.  However, in terms of actual planning, I booked a ticket and had two weeks to prepare all my gear, hotels, sponsors and itinerary. I knew nothing about Nepal and was basically following a feeling. It was not the most organized trip and certainly not the way most people plan an undertaking of this nature. But I've never been a conventional woman and don't plan to start anytime soon.
4.What was the biggest surprise on your journey? 
I was surprised at how much the altitude affected me. I was very close to not making it and even tried to get a helicopter rescue out which was not possible. I became extremely ill with hyper acute pulmonary edema (HAPE) towards the end of my trip. I lost nearly 20 pounds in a month. Food poisoning got me three times and my ear drum burst on my last day. It was much harder than I imagined.   
My other biggest surprise was the kindness and support of the Nepalese people. I have never felt such trust, loyalty and love from complete strangers. It restored a lot of the broken trust I had been carrying in my heart. It was a deeply healing experience and I left with lifelong friendships and grounded humility I have never felt before.
 5.What was the most memorable part of your solo trek? 
My "solo" trek quickly turned into a Lord of the Rings style expedition with first 1 then 2 and finally 3 Nepali men. I call them my three wise men. The most memorable moment is reaching Base Camp and dancing and celebrating with my friends. Victory is much sweeter when shared.
Watch video here
6.What advice would you give to anyone feeling stuck, or wondering what to do next?
I can only speak for myself, but when I experience feeling stuck or unsure of my path I need to learn to be quiet. Check into nature, journal, seek community. For me once I knew my direction, I had to be willing to let go of the things that weren't aligned and to be disciplined.
7.What Birch Babe products did you take with you on the trip? How did they help? 
Birch Babe was lovely and sent me with some key products that made a huge difference in my hygiene and generally made the trip easier.
100% Mineral Sunscreen - I used this daily and loved the scent. It kept my skin protected from the harsh conditions like sun, dust and wind. I even used it on my lips when the sun was peeking. This product was strong enough to protect even my sensitive ginger skin, which is not an easy task for sunscreen brands.
All Natural Deodorant in 'Lavender and Lime' – There isn't much opportunity for showering on the mountain because it is too cold and little access to warm water. Having a nice, long-lasting deodorant made me feel clean and fresh (even if I wasn't).
Lip & Cheek Balm 'Skinny Balm' - This was a life saver. My lips would not have survived this trip without this product. I used it constantly and it kept my lips from cracking and bleeding like some of the other climbers.
Shampoo & Bar Bar 'Spearmint & Rosemary' - This I used more when in Kathmandu as showering was not possible on the mountain, so I had to use wipes. (Something birch babe may consider in future?) But when I returned to the city it was a great alternative to the harsh shampoo and soap available in Kathmandu. I used it for my body, hair and laundry. Loved how versatile it was for one product.
Refreshing Tooth Powder - This tooth powder was perfect for the plummeting night time temperatures on Everest. It didn't freeze and was perfect travel size. Helped keep me healthy and fresh!
Lip and Cheek Tint in 'Vacation Mode' - I felt like a goddess even when I was dirt baggn' and covered in dust from head to toe. The gold flecks made me feel like a diva.  Even though I was doing a hardcore adventure I still like to feel feminine, and this was the perfect product for that.
8.Any fav Birch Babe products? 
Hands down the 100% Mineral Sunscreen. Even my porter and guide were always asking to share some. The smell reminds me of summer. I felt like even on my lips it looked pretty good. My skin was vulnerable in the mountain and this product saved it.  The All Natural Deodorant gets an honourable mention as it is just a solid product and I have had a hard time in the past finding a natural deodorant that actually lasts and doesn't stain my clothes.
9.What does #LessFussMoreFun mean to you?
As a professional guide I am constantly looking for efficient and easy ways to care for myself. I love looking and feeling great with minimal effort. I call myself the lipstick pilgrim. Keeping it simple with a few staple items, left more time to enjoy life. That's what up!
We're so proud of Hannah's beautiful journey of adventure and healing and honoured that our Birch Babe skin, hair and body care essentials were able to play a part in her once in a life time trek to Everest Base Camp.
If you're looking for skincare that can withstand any adventure like Hannah be sure to explore our full collection of 60+ Certified All Natural, Plastic Free and Vegan skin, hair, body and clean beauty products. 
xo,
The Birch Babes