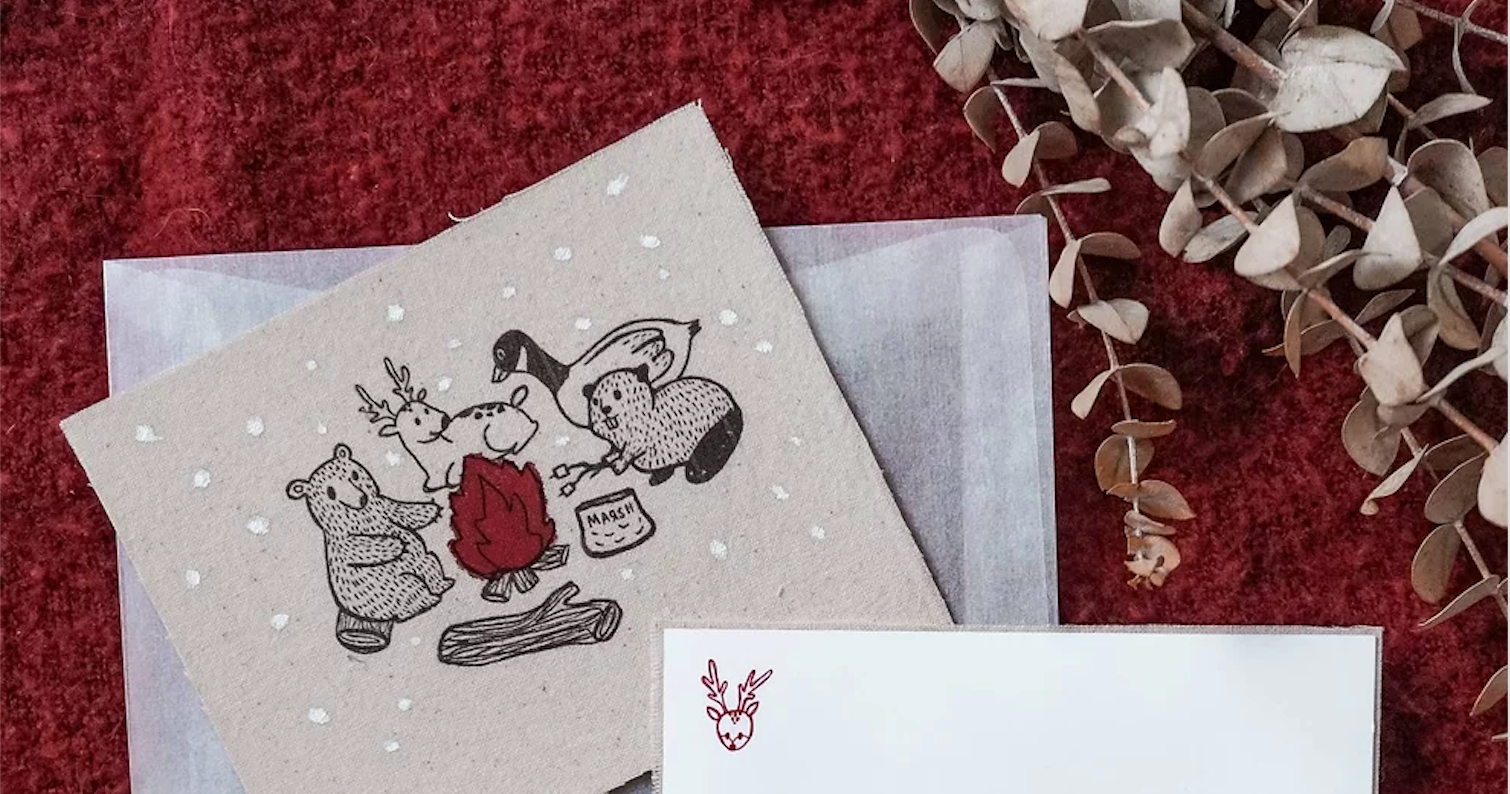 The Local Canadian Artist behind our Sustainable Handmade Holiday Greeting Cards
Meet Gita, the Artist behind our Sustainable (and Reusable!) Handmade Greeting Cards 
This year we're over the moon to be offering Handmade Holiday Greeting Cards on the site for the holidays! These aren't just any Holiday Greeting Cards though. We collaborated with local Vancouver based female Artist, Creative Director and Photographer Gita Lasmana.  
What makes these Handmade Holiday Greeting Cards so special? 
Made of 100% organic cotton and recycled paper. 
They're all handmade, hand-painted one by one, and reusable as home decor. 
Each of them comes with a glassine transparent envelope to make it even more presentable.

Oh, and you can write a custom love note at checkout if you'd like our team at Birch Babe Studio to mail to your loved ones directly!
We caught up with Gita to learn a bit more about her, the inspiration behind the cards and how she finds creative ideas as an artist!
What is your profession and passion and where do you call home?
I am a lover of arts - in any form. I do photography, makeup artistry, painting, and everything in between. I am passionate to create beautiful things and sharing them with people. Growing up in a big city made me feel like something was missing from me. Until the time I moved to Canada, I could be at one with nature every day. I can feel the connection that nature provides, and it makes me peaceful. So in conclusion, it's safe to say, nature is my home.
What inspired you to create these cards?

The first one, the cabin, is inspired by the beautiful British Columbia backcountry houses. I love all the houses and farms around the province, especially when I had a vacation at Golden. That was the A-line cabin that is on your card right now.

The second one, the animals roasting marshmallows, is inspired by all the animals from the Northern hemisphere. I am a big fan of animals, and they are all over my drawings.
Can you tell us a bit about what makes these cards unique?
It's unique because it's actually wall art in disguise! Simply stick on your wall or frame it to give them a second life! The Northern Kid cotton cards are made to be kept forever, and not to be thrown away after your read the greetings. And at the end of its life (in a very long time), please compost them all in the compost bin - it's zero waste. Oh did I mention that each of these cards is 100% handmade and hand painted?
What are you hoping people will do with these unique cards?
Please reuse it as: wall art, frame art, sew on your favourite bag, stick it on your bullet journal, and so many more! Just like my favourite clean brand Birch Babe, we think "sustainable is the new cool".

Where do you find your inspiration as an artist?
My inspiration is everywhere around me - inside and outside. Aside from animals and nature, my feelings, goals, message to the world, families and friends, are all my biggest inspirations. 
Shop our Handmade Holiday Greeting Cards here
To learn more about Gita be sure to follow the below:
Website: 
Instagram: