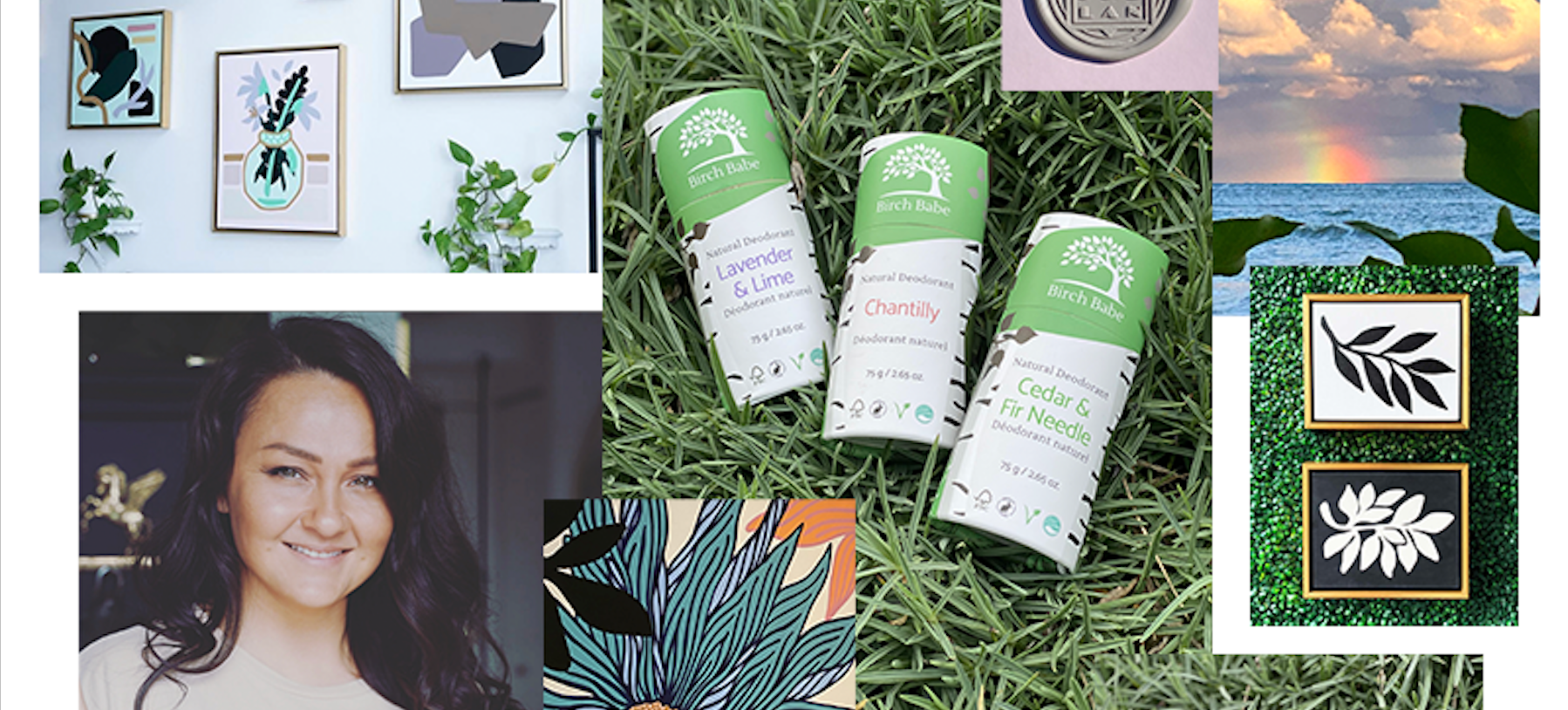 Meet The Female Canadian Artist who Designed our Sustainable Deodorant Packaging
We caught up with local Canadian Artist and Designer Leslie Phelan who created the (uber cute) design for our new All Natural Deodorant packaging.
Leslie has been recently featured in House & Garden UK Magazine and is based near Toronto where she specializes in custom large-scale hand-drawn artwork and painted signage.
Where do you live?
I currently live in Midtown, Toronto.
How did you get into mural art?
It happened very organically after working as a creative at an event design studio for several years: I realized that my favourite aspects of event design were all in the little artistic details that set it apart from every other event. I love creating a feeling through colour, shape and symbols, and that led me to designing backdrops and custom art pieces, which evolved into designing and painting murals and now, into designing chic and pretty packaging for brands I align with! I'm just surfing the wave and always looking for new ways to express my creative notions. And when I get to see my artwork on products that I would totally buy anyway, like these natural Birch Babe deodorants, it's such a sweet bonus!
You're such a talented artist! What do you love about creating art and what is your process?
Thank you so much, I really love what I do!
I've realized that my process for all of the artwork I create, often begins long before I'm approached with the projects. I have treasure troves of pictures and mood boards of inspiring artworks and colour combinations I love, that I that I draw from whenever I'm envisioning the artwork to be. My aim in everything I do is to achieve a feel that will resonate as pleasantly relaxed but also very intentional.

My favourite pieces I've worked on lately are my collections on canvas and some fun botanical murals I recently did inside a private residence. Every project is so different from the last, and my favourite part of this career is definitely the variety of styles I get to work within, and make my own.
Do you have a favourite Birch Babe products?
I love slathering up in the Whipped Vanilla Body Butter after a bath, and keep the  'Fireside Temptation' Lip & Cheek Tint in in my purse at all times!
What do you love about them?

Because the smell is divine and I like how soft it leaves me, and because I find that I'm wearing make-up less and less lately so it's a nice little pick-me-up colour pop whenever I feel like it! I love the rusty red shade.
What does living sustainably mean to you?
In its truest sense, I believe living sustainably can only really be defined as living in a way that could still be sustained even if there was an apocalypse of modern life as we know it. In a more practical sense, it means reducing waste through a more conscious approach to consumption. With sustainability in both respects in mind,
I prefer to buy products made from clean ingredients that have as little plastic in them as possible. From small-batch producers when possible, which are packaged inside containers that are either reusable, recyclable, or biodegradable.
Thank you Leslie!!
We had such a wonderful experience working with Leslie. She was so professional and came up with really cool concepts and intuitively knew how to execute them into the design specs. 
We're super excited to see where 2022 takes her and will be looking out for more published art pieces and inspiring murals with her signature on them throughout the country. 
To learn more about Leslie or inquire about commissions see her contact info and handles below: