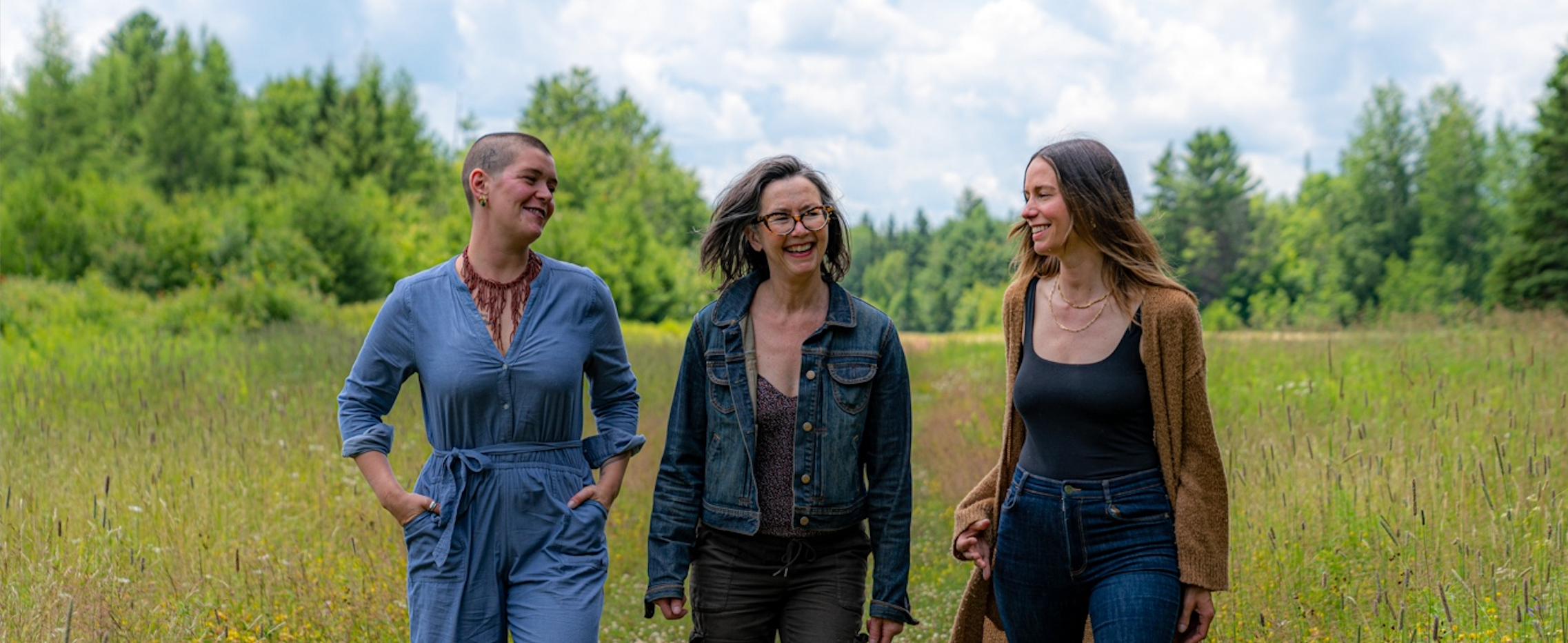 Meet The Team! The Mother Daughter Business Shaping Canada's Sustainable Skincare + Clean Beauty Scene
Hi! We're Birch Babe (and we're so glad you're here) 
First, let's get to know each other with 3 fun facts about us:
We're a female and family led company (a Mom and her 2 daughters) 
Everything is handmade in our studio/lab in Ontario
Our company started after our Mom Debbie hiked from the southern tip of Patagonia to the Northern tip of Chile (solo....like a total #badass!)
From Patagonia to Purpose:
Six years ago Birch Babe's founder Debbie (our mom!) hiked solo from the southern tip of Patagonia to the Northern tip of Chile. On this trip she saw a lot of waste however while in Patagonia she noticed that everyone was super conscientious about the environment.

The trip inspired Debbie to do more for our planet. She came home and immediately dove into creating cleaner skin and body care. First for herself, then friends and eventually festivals. 
A Family Rebrand:
Fast forward a few years later and Debbie's daughters (Kelsey and Lindsay) decided to join forces and rebrand Birch Babe.
Our new look launched October 2020 and in a couple years we're honoured to share that Birch Babe products can now be found in over 300+ stores across North America, Indigo.ca, Well.ca and has been featured in various articles including CNN, Breakfast Television and CTV's The Social. What's really exciting though is the growing online community who inspire us everyday to stay on this sustainable journey!
Brand Values: 
We're proud to share that all of our formulations are made in house by our certified organic skincare formulator (our mom!). We also ensure that we only source sustainable, Fairtrade and EcoCert ingredients that are vegan and certified cruelty free. We also package everything plastic free or package free wherever possible to reduce unnecessary waste. 
Meet The Team:
Birch Babe is a female and family led company currently managed and owned by a mom Debbie (in the center) and her two daughters Kelsey (on the left) and Lindsay (on the right). Debbie is the Founder and Lead Organic Skincare Formulator. Kelsey is head of Communications and Creative and Lindsay is the Studio Director. We also have an incredible team of marketers, designers, sales reps and our awesome studio team who whip out all of your orders fast and with love. Together we offer a collection of diverse skills and are brought together by an unparalleled passion to help make a positive impact on the health of our bodies and the planet.
Debbie - Founder & Lead Skincare Formulator:
Debbie is Birch Babe's founder and lead Skincare Formulator. Debbie has been a serial entrepreneur, business owner, health enthusiast and nature lover. From interior decorator, fitness instructor, starting a successful coffee shop franchise, to environmental mapping Debbie's passion for creating and connecting people to health and our planet is endless.

A nature enthusiast, Debbie founded Birch Babe after a 6 months solo hike from Patagonia to Chile 6 years ago. It was on this hike where Debbie's passion for the environment deepened and led her to come home, quit her job, move to the cottage and start making skin, hair and body products that were better for the health of our bodies and the planet.

Debbie has a diploma in Organic Skincare Formulation and an Advanced Diploma in Organic Cosmetic Science. Both with Formula Botanica. In addition to this Debbie has spent years deep in repetitive discovery of exploring science and perfecting formulations from the perfect sourdough to the optimal regenerating skincare.

It's Debbie's wide knowledge of ingredients, and the science behind formulations rooted in nature that have made Birch Babe products such a success and loved by many across the globe.
 Lindsay Irvine - Partner and Head of Production:
Lindsay Irvine is a seasoned production and logistics professional with a diverse background in business management, fashion design, and electrical engineering. As the Head of Production at Birch Babe, Lindsay brings a wealth of experience and expertise to the team. With a degree in General Arts & Science, Fashion Design and Merchandising, and Electrical Engineering, Lindsay has a unique skill set that allows her to tackle complex production challenges with ease.

Prior to joining Birch Babe, Lindsay honed her management and logistics skills as a restaurant manager at the bustling Downtown Toronto bar Sneaky Dees for over a decade. During her tenure, she developed a reputation for her exceptional customer relations, inventory control, and management skills. These skills have proven invaluable in her current role at Birch Babe, where she oversees all aspects of production, from sourcing and procurement to manufacturing and distribution.

Through her leadership and expertise, Lindsay has helped Birch Babe establish a reputation for excellence and efficiency in the natural beauty space. Her commitment to quality, sustainability, and customer satisfaction is evident in every aspect of the production process, from the selection of ethically sourced ingredients to the meticulous attention to detail that goes into every product.
Kelsey Irvine - Partner and Head of Communications & Creative:
Kelsey Irvine is a multifaceted creative professional with a passion for storytelling, sustainability, and natural beauty. As the Head of Creative and Communications at Birch Babe, a Canadian all-natural skincare company, Kelsey brings a wealth of experience and expertise to the table. With a background in commercial advertising and documentary directing, Kelsey has a knack for creating visually stunning and emotionally resonant content that inspires and engages audiences.

In addition to her work in film and video production, Kelsey is also an Oscar-nominated producer with a deep understanding of the importance of creating impactful narratives that promote positive social and environmental change. This passion for sustainability and eco-conscious living is reflected in Birch Babe's commitment to using all-natural and ethically sourced ingredients, as well as their dedication to reducing waste and minimizing their carbon footprint.

Through her leadership and vision, Kelsey has helped Birch Babe become a leader in the natural beauty space, with a loyal customer base and a reputation for excellence. Whether she's working on a new product launch or developing a marketing campaign, Kelsey's creativity, strategic thinking, and commitment to sustainability are always front and center.

A Growing Impact:
Driven by our collective skills and a shared passion for positive change, our Birch Babe team has big goals to make waves in the clean beauty industry. Our goal is to empower individuals to make easy lifestyle changes that help them prioritize the health of their bodies and the planet.
We're so glad your'e on this journey with us. We're just getting started!